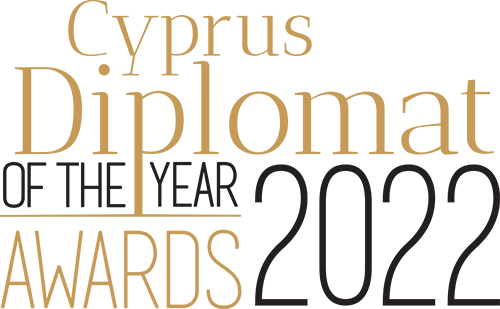 The voting process for 2022 has been simplified in order to provide the most clarity, transparency and at the same time anonymity to the process.
One award will be give to the diplomat recognized for his/her outstanding work and achievement based on:
Work in promoting economic diplomacy
Contribution to strengthening the bilateral business relations with Cyprus
Popularity/community engagement
Terms and Conditions
All resident Heads of Diplomatic Missions are eligible to vote and be voted  (Ambassadors, High Commissioner and Charge D'Affairs)
Each diplomat can receive the award for up to two consecutive years.
WHO CAN VOTE
ONLY the 43 Resident Diplomatic Missions are eligible to vote amongst their peers and to be voted for.
HOW
The Diplomatic Missions will receive their invitation inclusive of a voting sheet, together with an addressed and stamped envelope. The Head of Mission will cast their vote as per the instructions below.
Once each mission casts her/his votes manually, the completed voting sheet must be enveloped and sent to Ministry of Foreign Affairs.
The voting sheets will be kept at the Ministry of Foreign Affairs for the duration of the voting period and the ballots will be opened in the presence of the Ministry of Foreign Affairs, representatives of the CCCI and the current Dean of the Diplomatic corps on the 29 June 2022.
The winning diplomat will be informed beforehand by the organising committee and the official announcement will take place during the event.